Where are waterproof connectors generally used
Waterproof connector is also called waterproof plug, waterproof connector, waterproof cable, etc., which is an electronic component with waterproof function. They can place power cords such as LED power waterproof connectors, network cables such as shared bicycle gps signal lines, etc., not only can provide normal and safe and reliable power and signal transmission, but also can play a waterproof and dustproof effect, except for often outdoors It can be used outside where it will get wet, and it can maintain normal work even in water.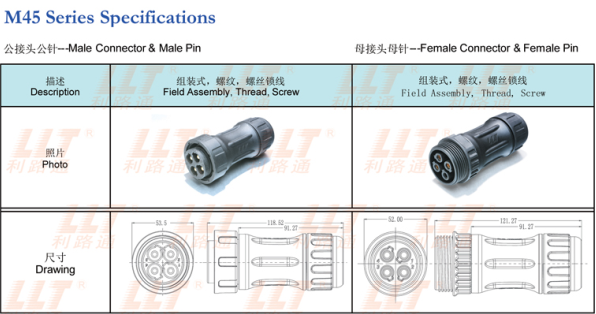 1. Outdoor application connection of LED products: such as LED light bar, LED spotlighting, LED wall-washing landscape lighting, LED billboard lighting, LED flood lighting, LED street lighting, bridge tunnel lights, street lights, field exploration equipment, outdoor Large electronic displays, household appliances, etc.

2. It is suitable for industrial automation equipment, film and television lighting and sound equipment and engineering. For example: injection molding machines, extruders, power generation equipment, packaging machinery (heat shrink packaging machines), air conditioning units, lighting fixtures, energy generation, refrigerated containers, etc.

3. Underwater operations: ships, offshore lighthouses, sprinklers, aquariums, etc.

4. Due to stricter application requirements in the military field, a large number of waterproof connectors are used, such as connectors for submarines and connectors for submarine-launched missiles.